Obviously, spoilers ahead.
Even if you haven't seen the most recent
Star Wars
movie--in which case, why are you reading this?--you've probably heard people complaining about it.
The Last Jedi
is not a flawless film--though I do think it's the best since the original trilogy--but many of the most common critiques are completely unwarranted. Aside from the disappointment from some fans that director Rian Johnson chose to subvert most of the mysteries set up by his predecessor, the mystery-box-obsessed JJ Abrams, many of the complaints have had to do with the film's treatment of the Force, which manifests in ways that truly surprised me in this movie. For me (and apparently most critics as demonstrated by Rotten Tomatoes) this sense of surprise was thrilling, while to others, it "violated canon" and was therefore bad.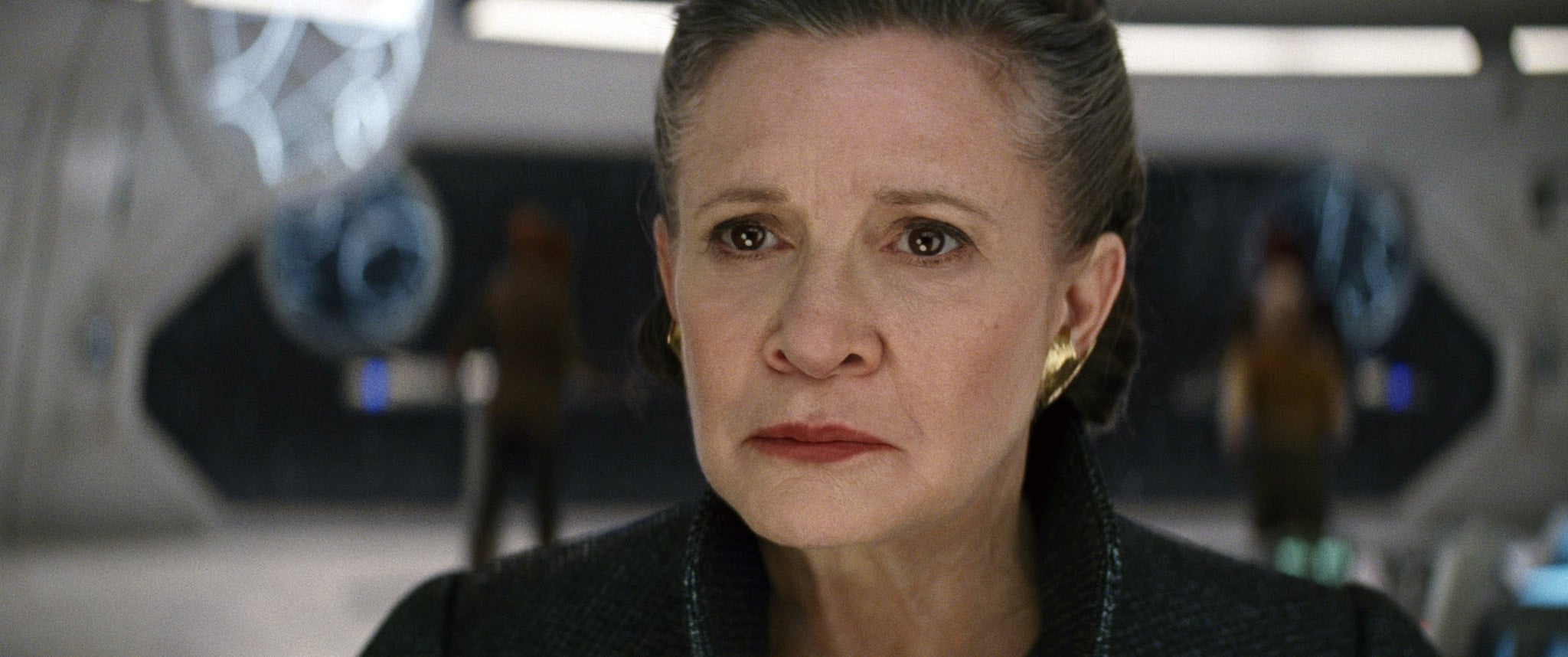 One scene that very much did
not
violate canon, however, was General Leia Organa's surprise survival after being thrown from an explosion into the vacuum of space. I have argued with many fans who insist that this scene didn't fit with the established "rules" of the Star Wars universe, and I've noticed a tendency to jump from one nonsensical point to another every time one of their arguments is rebutted. Here I will rank and respond to each of their critiques in order of stupidity. Pull up a seat and buckle up, because we're about to slice through these dumb arguments like Admiral Holdo hyper-jumping through a Star Destroyer.

7. "They should have used that scene to kill Leia off for real!"
I'm ranking this one as the least stupid, because I see the logic in it: Carrie Fisher was taken from us too soon, and her survival in this movie creates a problem for the next one, since now JJ Abrams will have to find some way to explain her absence, whether through an off-screen death or something else.
But that's not a problem for
this
movie or
this
scene. One could argue that after Fisher's death, the movie could have been rejiggered so that Leia dies in the explosion; the movie wouldn't have changed much had Johnson made that choice. But think of all the awesome Leia moments we would have been deprived of if that had happened. No reunion with Luke. No stunning Poe. No interaction with Holdo. Robbing us of all that would have been more disrespectful to Fisher than anything else.
6. "She looked like Mary Poppins!"
No, she didn't.
Mary Poppins flies with an umbrella. Leia didn't fly; she floated, because that's what people do
in space.
Did the critics want her to
walk
back to the spaceship?
Another comparison I see floating around (see what I did there?) is to Peter Pan. Now, Pan is male, but still a pretty feminine figure. Note the most famous flying character--Superman--doesn't come up in most of these comparisons. This leads me to believe there may be an undercurrent of sexism here.
You know what I thought of first while watching this scene? This:
To be fair, some people who make these comparisons are just trying to say they thought the scene looked cheesy. This is somewhat subjective, and not necessarily stupid, though I haven't ever seen those saying this point out specific things about the scene that were cheesy. I, for one, found it beautiful.
5. "That's not how the Force works"
Well, first of all, the Force works however a given writer wants it to work. There are no set rules here; it doesn't operate based on any physical force we're aware of in the real world. One common objection I've seen is that this is the first time we've seen someone do something like this in the Star Wars universe. But this doesn't make the scene bad; we were introduced to new Force powers in every movie of the Original Trilogy.
And this wasn't even a new Force power. All Leia did was use Force telekinesis to pull herself back to the ship. Force telekinesis is a power introduced in
The Empire Strikes Back.
Next argument.
4. "Oh yeah? Well how did she survive IN SPACE?"
This is where Google comes in handy. It is a fact that humans can survive a few minutes in space. That's about how long she was out there. I don't necessarily advise testing this out; it would mess you up pretty badly, but that's exactly what happened to Leia. If you complained about this, you were complaining about the most scientifically accurate part of the movie.
3. "But Leia has no training!"
We have no way of knowing that; it's been thirty years since
Return of the Jedi;
I'd be surprised if Luke didn't give her any training at all. Even if he hasn't, all she did was use force telekinesis, which is canonically one of the easiest and most instinctive powers a Force-sensitive person can display. Luke did it in
ESB
with no training, in a very similar situation, for his own survival. I see no reason why this would necessarily even require training; many fans are calling this a huge display of power, but according to the director, it's more like a woman lifting a car to save her child. That was very much how I interpreted it as well.
2. "Since when can Leia use the Force?"
I've seen multiple people say this, and it's at this point I have to conclude they just didn't pay attention to the Original Trilogy at all, let alone
The Force Awakens.
In
ESB
she uses it (unconsciously, just like she probably did in
TLJ
) to sense where Luke is at the end of the movie. In
ROTJ
she once again senses that Luke has survived the battle with Vader on the Second Death Star. And in
TFA
she immediately senses Han's death. Perhaps these "fans" were more accepting of this (and then later completely forgot it) because these were more "passive" powers, whereas her display here was more active. Still a stupid complaint that shows a complete ignorance of Leia's character in three out of her previous four appearances in the
Star Wars
saga.
1. "Well, fine! But how did she survive the explosion in the first place?"
Seriously. I saw this one yesterday, and it's what inspired me to write this post. Someone seriously questioned how someone was thrown from an explosion...in an action movie.
How do these guys enjoy
anything?